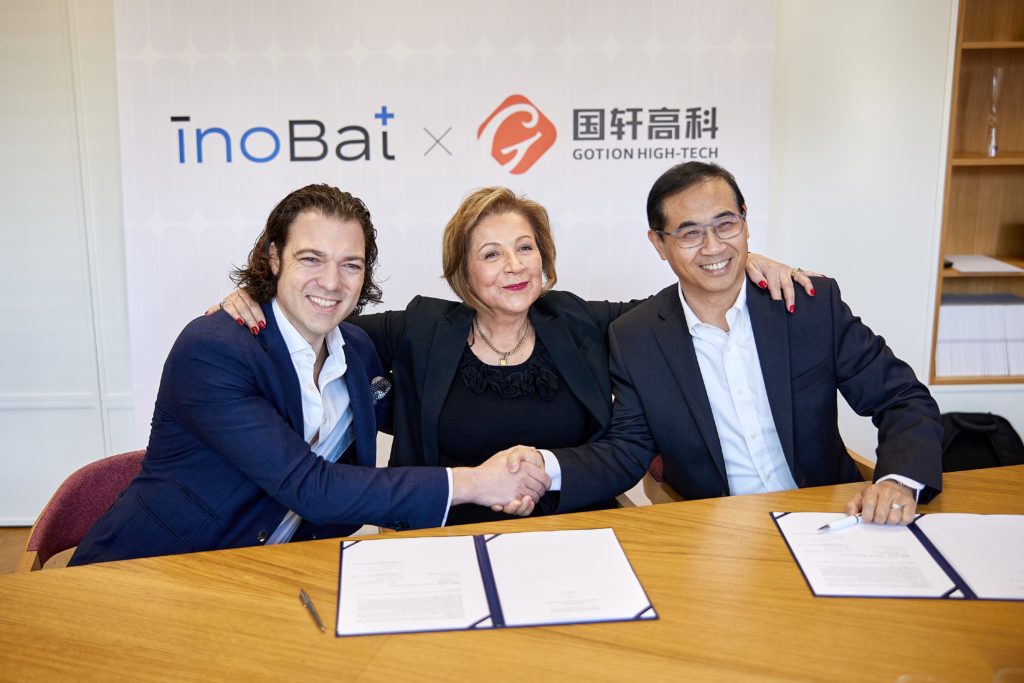 – Up to 40 GWh capacity
– Chemistry solutions for electric vehicle batteries and energy storage solutions
Bratislava, Slovakia; Hefei, China 7th January 2023: InoBat, the European pioneering supplier of premium batteries for electric vehicles, and Hefei Gotion High-Tech Power Energy Co.,Ltd ("Gotion"), innovative manufacturer of batteries and energy storage solutions in China, have signed a Memorandum of Understanding to explore Joint Venture opportunities in revolutionising EV battery and energy storage technologies.
With technical superiority, complementary capabilities and a shared sustainability ethos, InoBat and Gotion will look at ways to work together on several key common topics of interest, such as:
co-development of a JV gigafactory with cell and pack production capacity of 40 GWh to support EV applications, with the CEE region being one of the regions under consideration
technical cooperation based on both sides respective advantages of LFP and NMC batteries
co-develop the potential for ESS battery production at existing InoBat premises in Slovakia allowing fast access to the European market
technology and commercial partnership in facility operations
investigation of recycling concepts for production scrap and end of life batteries
The strategic agreement will see InoBat benefit from Gotion's expertise in electric storage solutions ("ESS") whilst Gotion will benefit from InoBat's existing manufacturing sites and expansive market connections in Europe. While InoBat and Gotion will maintain their independent businesses and chemistries, by working together in mutually beneficial areas, both companies aim to devise new and exciting technologies to accelerate the global charge towards a green energy future.
Marian Bocek, Founder and CEO of InoBat commented:
"Gotion is an ideal partner for InoBat. Like us, they firmly believe that a sustainable future is only achievable if the energy, and the products that provide this energy, can be both sourced and recycled in a sustainable manner, sharing the cradle-to-cradle ethos that lies at the heart of InoBat. It is exciting to have the opportunity to leverage both of our complementary capabilities, as well as having the objective to work together on areas that we have yet to explore. We are very excited at the prospect of bolstering knowledge share and beginning a collaboration between our people and our products well."
Steven Cai, President of Gotion's General Research Institute of Engineering, and CTO of Gotion commented:
"InoBat is a Europe-based battery manufacturer with advanced development concepts and unique technical advantages. The company advocates a "cradle-to-cradle" and recyclable approach to manufacturing electric vehicle (EV) batteries which is in line with Gotion's mission of "Making green Energy accessible and sustainable". Gotion High-Tech intends to carry out a comprehensive cooperation with InoBat in battery technology innovation, localized production of EV batteries in Eastern Europe as part of a green-energy ECO-Park, battery recycling etc.
We believe that this cooperation will yield win-win results and create a better future in the EV battery field. It will be part of Gotion High-Tech's business plan of establishing 100GWh of battery production capacity in the overseas market by 2025 and help to advance the international development of the company in Europe. We are excited about this new partner in our cooperation landscape."
NOTES TO EDITORS
About InoBat
InoBat specialises in pioneering research, development, manufacture, supply and recycling of innovative electric batteries custom-designed to meet the specific requirements of global mainstream and specialist OEMs within the automotive, commercial vehicle, motorsport, and aerospace sectors. InoBat's provides innovative solutions across the entire value chain thanks to its "cradle-to-cradle" approach, which showcases the concept of a circular economy. InoBat is backed by a strong consortium of strategic investors and partners such as Rio Tinto, Amara Raja, Ideanomics, IFC, IPM Group, Matador, AEN, CSG, Avanea and Across. A European-based battery manufacturer, InoBat already has a battery research and development facility and pilot line under development in Slovakia. InoBat has also been approved for grant financing under the EU sponsored programme, Important Projects for Common European Interest, and already received a grant from the Slovak Government.
For more information and news on InoBat, please visit https://www.inobat.eu/
About Gotion
Gotion High-tech Co., Ltd., as the first private enterprise in the power battery industry to enter the capital market in China, was listed on the Shenzhen Stock Exchange in May 2015. The Company specializes in the development and manufacture of power batteries for new energy vehicles, energy storage application, power transmission and distribution equipment, etc. Gotion High-tech is a technology-based Company focused on power battery technology research and development and innovation. It is one of the earliest enterprises engaged in the independent research and development, production and sales of new energy vehicle power lithium-ion batteries in China. Gotion High-tech has global operations and has carried out strategic cooperation with Volkswagen, Tata Group, Vinfast and Jinko, among others.
Contacts
Katarina Stryckova and Gary Haddon, InoBat Auto
katarina.stryckova@ipmllp.com
gary.haddon@inobat.eu

Zoë Watt and Tom Davies, Teneo
zoe.watt@teneo.com
tom.davies@teneo.com
Yang Chunyan, Gotion High Tech